Corbin covered bridge was build over the Sugar River in Newport, New Hampshire to provide access to Austin Corbin II's mansion just up the lane from the covered bridge.
Corbin was born in Newport in 1827 and attended a one-room schoolhouse. He put himself through Harvard Law School before heading to Iowa where he soon switched from law to more lucrative land speculation and banking.  Later he invested in railroads and made a fortune.
A self-made millionaire, and known as the "Father of the Banking Industry", a robber baron of the gilded age, Corbin like many of his peers like to hunt and when his Long Island estate ran out of room for his collection of deer, elk, and antelope, Corbin decided to build his own wildlife preserve back in New Hampshire.
This was the industrial age when many New England farmers gave up their hard scrabble farms for a life of toil in the factories, farm land could be snatched up cheap and Corbin ended up buying two mountains full of property to house his private hunting grounds. By 1889 he had acquired between 265-373 deeds. The final cost of the land averaged $5 per acre. That same year, the preserve was registered with the State of New Hampshire as the Blue Mountain Forest Association, a limited membership proprietary hunting club.
The animals which would include deer, elk, wild boar and even a herd of American Bison (saved from the brink of extinction from over zealous buffalo hunters in the west) enclosed by a  36 miles long and 12 feet high, with three feet of underground fencing to keep the boar from tunneling out.  Keep in mind that this as a time of great deforesting of New England where just about every tree was chopped down to make why farms, sheep grazing, paper making and firewood.  Deer were nearly extinct in the region.  Hunting at this point was like the European model, only to be had in private reserves stocked by the wealthy landowners.  White tail deer, now common again in New Hampshire,  had to be imported from Canada.
Corbin Park is what the locals call it but the real name is Blue Mountain Forest Association and to this day it is a limited membership proprietary hunting club.   Officially it's called the Blue Mountain Forest Association, but everybody who knows about it calls it Corbin Park.  It's near the border with Vermont and it's huge, though its exact size seems to be something of a mystery. Regardless, at somewhere between 24,000 and 26,000 acres this park is actually bigger than something like 60 percent of New Hampshire towns. Something to the order of 35 members pay big bucks to hunt exotic animals with in the parks 26 miles of chain link fence.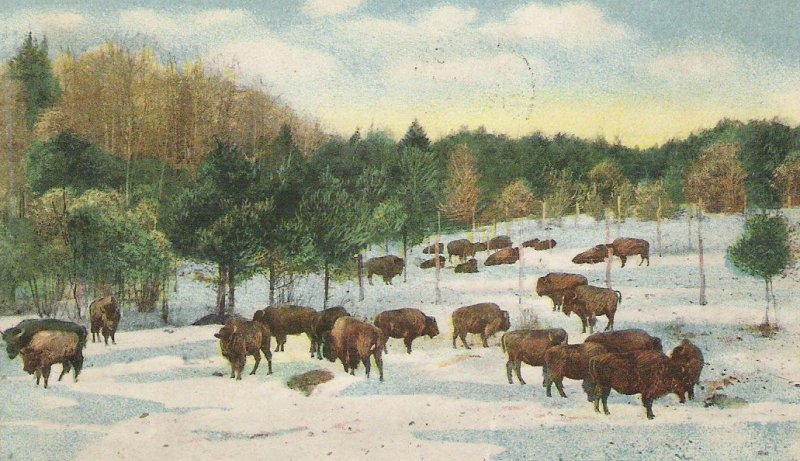 The Corbin Covered Bridge is a wooden covered bridge over the North Branch of the Sugar River on Corbin Road, approximately 1 mile west of NH 10 in Newport in Sullivan County, New Hampshire, United States.
It is a Town lattice truss bridge
Originally built in 1845, destroyed by fire in 1993 and subsequently reconstructed
Consists of one span with a total length of 96 feet (29 m).
The total width of the bridge is 18 feet (5.5 m), and has a single lane road.
The bridge rests on stone abutments.
The bridge passes 12 feet (3.7 m) over the water. Its sides are sheathed, the usual means by which the truss elements are protected from the elements.
The bridge was listed on the 

National Register of Historic Places

 in 1976

 but was removed when destroyed by fire.
More information about Corbin can be found here:   http://eastmanliving.com/2011/11/corbin%E2%80%99s-%E2%80%9Canimal-garden%E2%80%9D/